Among all social media networks and their posts, LinkedIn and LinkedIn Posts stand unique. Do you know why? This is because unlike Facebook, Twitter, and Instagram, networking here is on more professional grounds. Your Facebook friend who might be very casual and friendly to you will present himself/herself differently in front of you as your LinkedIn connection.
So, what sort of posts fall under top trends in LinkedIn posts – let's take a look – turn by turn.
1. Images and videos in LinkedIn Posts
According to a survey conducted by Social Media Examiner, 74% of social media marketers use visual assets in their social media marketing, ahead of blogs (68%) and videos (60%).
In addition, when people hear information, most probably three days later, they can remember only 10% of that information. On the other hand, if a significant image is corresponding to that same information, three days later, people can retain 65% of the information.
This indicates how important it is for you to use visual content comprising videos and images. Furthermore, according to the latest update of LinkedIn, you can now upload or record video on your LinkedIn mobile app.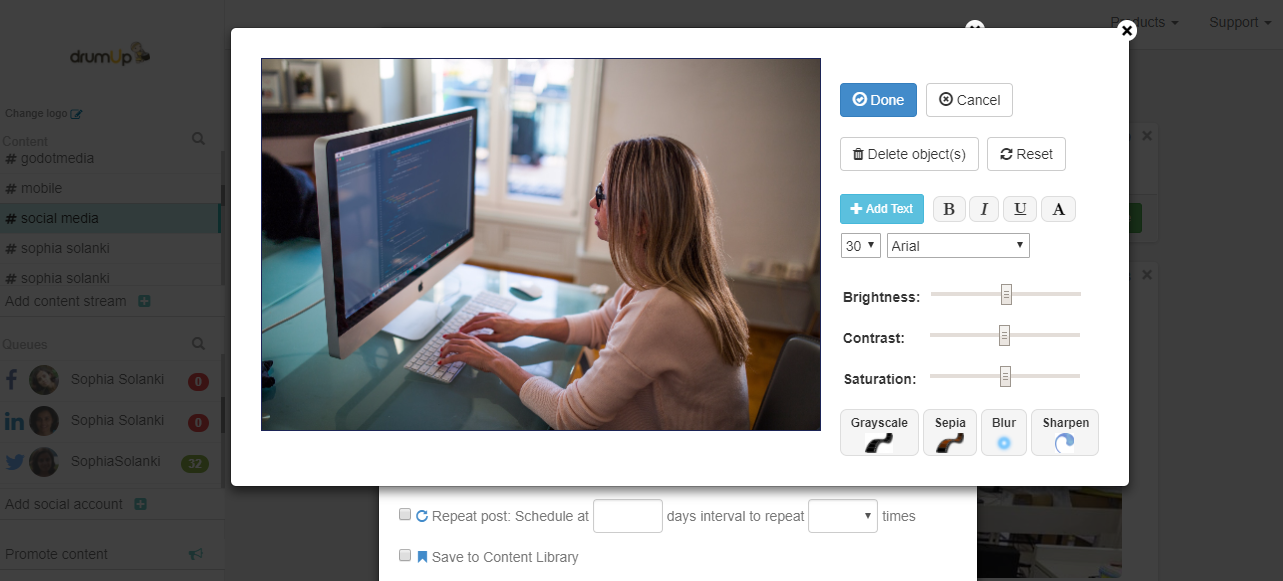 Note:

Unlike Twitter or Facebook, only one image can be included with posts that are going to be published to LinkedIn. However, the ability to add multiple photos is available now on iOS and is coming soon to Android and desktop.
2. Call-to-actions in LinkedIn Posts
CTA is a tool for an effective B2B lead generation. And, LinkedIn being a social media marketing platform try to include call-to-action in your LinkedIn posts wherever logical and possible. Of course, you should not sound like a salesperson.
The best place to add call-to-action is your blogs on LinkedIn Pulse. CTA, being a critical as well as a visual item for blog posts, helps the reader get more information to move along their journey and to resolve or satisfy their need or problem with your product or service.
One school of thought suggests that every LinkedIn Posts should end with a proper CTA unless you are writing or posting just for the sake of keeping your account active. There is no hard and fast rule on the type of CTA. However, you can include CTA in your LinkedIn posts in the form of:
Engaging image that conveys that what they will get by clicking on it

URL to your customized landing page
In addition, you can directly ask for opinion or feedback to drive your users to the comments box.
3. Article marketing on LinkedIn Pulse
LinkedIn Pulse is one of the best places for publishing and promoting your articles and blogs. This is indeed an effective way to drive traffic to your website and boost brand awareness. It is strategic to share content that makes sense coming from you as well as makes you look like an expert but doesn't directly relate to your offerings.
Few things to be considered while doing article marketing on LinkedIn:
Always include author bio, it will give credibility and build trust of your users.

Beautify your story/article by adding banner images, it increases click through rates.

Use images inside the article. Note: Images that are at least 700 x 400 pixels suit best.

Do not forget to add tags. The tagging feature enables you to label your post using categories such as "web development" or "digital marketing." These specific tags will make it easier for users to reach your post.




Tip:

Always aim to publish an article that interests your clients and users even when they are not in need of your services.
4. Long-form content in LinkedIn posts
Having said article marketing is a booming trend, let's focus on the length of articles as well. These days long-form content not only work best for your SEO, but it also enhances user experience. When you create and publish your own original content on LinkedIn's Pulse, you invite yourself in the competition of building a network that is relevant.
Remember, it usually takes a considerable amount of patience and time to build an audience of followers. However, with LinkedIn Pulse, if your voice is exactly in line with users' requirements, you can get noticed as an expert in your field and boost your professionalism.
Long-form content also performs well and gathers traffic over time. To make the most of long-form posts, create an extensive social media schedule to reach a wide audience.
On DrumUp, you could store post sections or different versions of post promotions in libraries and set them on "auto-post" for a pre-decided interval of time.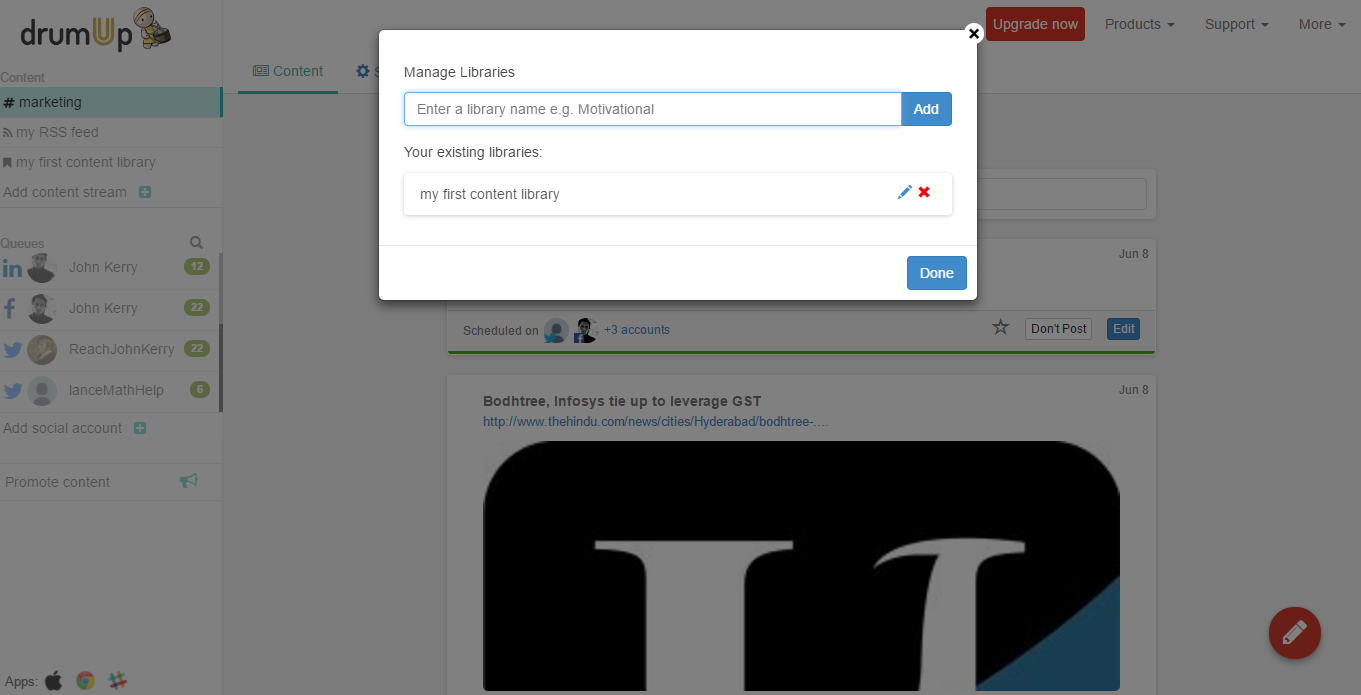 According to research, "Posts between 1900 and 2000 words perform the best and gain the greatest number of post views with titles having a length between 40 and 49 characters."
5. Timely, relevant, and conversational LinkedIn posts
When it comes to posting your original content or sharing others' content, don't just do it as an activity or just for the sake of doing it. Rather, do it using all your analytical skills and relevance of the content.
Few examples on what sort of content should you post that sounds timely, relevant and conversational:
Tips about succeeding in any particular marketing activity

Tricks and tactics to standout unique in competition

How to posts to help users understand the required processes

Questions to instigate conversations
L'oreal has built up a following of over 700,000 people by posting timely, relevant and conversational posts.
All the times it is not possible to provide tips, tactics, strategies, and so on. There you can always re-purpose evergreen content and help your users by providing with the content they need at their finger tip.
6. LinkedIn Page posts
Whatever LinkedIn posts, you want to post – choose to post it from LinkedIn page over the LinkedIn profile. You can expand network through your profile. But as a business what all you need is a dedicated base of followers. At the end of the day, people trust on what's happening inside the business, where it is heading, and how it is doing. For this, they visit your fan page. And hence, make the optimized use of it. To increase the number of your followers, make a compelling LinkedIn posts for them to sign up for your free report, newsletters, video series, blogs, webinars, podcasts and others. This is a secret sauce for moving your social contacts to your email list.
If you are sharing your posts from LinkedIn Page to various groups, make sure you check their terms of participation. Some groups permit discussions only and restrict links to your content or site.
Tip:

Make sure your twitter account is connected to your LinkedIn profile, so your twitter handle is included in the tweets people share.
7. LinkedIn posts with the personal touch
Of course, LinkedIn is a way professional network. However, at times, a personal touch is also required to boost engagement. In case your LinkedIn following is much lesser as compared to followings on Twitter, Facebook, Instagram, Google+, and other networks, what best you can do is a cross-promotion. Cross post the URL of your posts on other networks with an added compelling social prompt and post it on LinkedIn. This will, for sure, help you build your LinkedIn connections.
Since this is a social network, and you are looking forward to expanding relationships with people, include some personal elements which build their trust in you. Not on a daily basis, but occasionally add a bit of you into your LinkedIn status updates. Such posts could be testimonials, your new venture, mention of a new client, and any new learning, certification, or achievement.
B2B social media marketing on LinkedIn has always been a challenge for most of the search marketers. However, keeping the recent and most working trends of LinkedIn posts in mind, we are sure – you will not regret your time invested in LinkedIn marketing. Pump up your energy and start exploring LinkedIn posts trends which are aligned with your marketing goals. Any of the above mentioned Posts will surely excite your readers.