One of the greatest boons of running a business today is the ability to carve a niche in the minds of the customers through social media. Of all the social media channels available, Instagram plays a very important role in carving this niche because it is entirely a visual medium. Unlike marketing on other social media channels, Instagram marketing is purely image based. This makes it a marketing favorite for most types of businesses.
Whether you are a product based or a service-based industry, Instagram helps in reshaping your business visually. Through the use of interesting images, GIFs and videos, Instagram is able to grab the attention of the customers and convey important messages to them. Instagram stories help in real time marketing thereby reaching the right audience at the right time. With the right social media management tool, you can make an impact for your business on Instagram.
Here's a list of the advantages that social media marketers enjoy when marketing via Instagram.
1. Instagram allows businesses to introduce products to customers
Whether you want to introduce a new product or existing product to the customer, Instagram is the right choice. Through attractive and engaging visuals, you can explain to the customers how to use the product in everyday life, how to use the product creatively and how it can solve their problems.
For, e.g., Playdoh's Instagram page has videos and images that show interesting and creative ways to use their products. Those who purchase Playdoh's products can experiment with such creative ideas or get inspired by such images to try new products.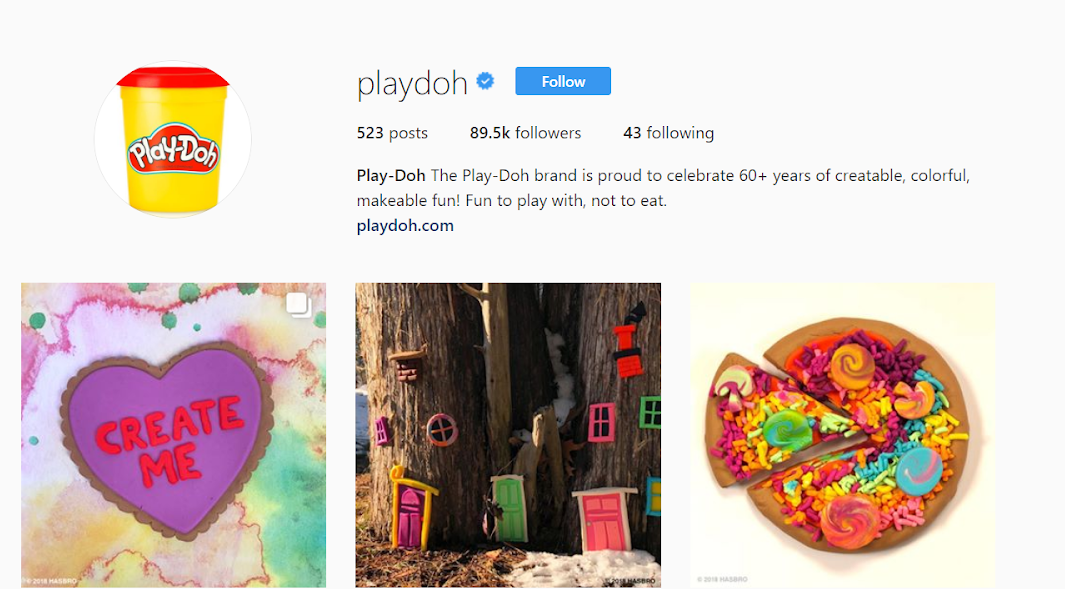 Companies can use such images with interesting copy, to keep target groups hooked. Marketers can use tools such as the Hemingway app when coming up with attractive and compelling copy for Instagram marketing posts.
2. Instagram allows customers insight into businesses
Transparency is a critical element that contributes to the success of a business. Customers like knowing what happens inside a company. Who is the face behind the posts customers see on Instagram? Who takes the beautiful pictures and videos that end up on a company's profile?
These are just a few examples of the things that customers would be interested to know. By publishing pictures of employees, celebrations in the company and even meetings, your company can endear customers to the people that make your brand. This relationship-building can help in building brand loyalty and shaping your business online.
Tools like Activepresenter help in creating interesting "behind the scene" videos which can be shared with customers.
The above screenshot of Gucci's Instagram page shows Behind the Scene shots of creating an ad campaign for the brand's new men's scent – Gucci Guilty Absolute. On seeing such pictures, customers feel like they're a part of the process and develop loyalty towards brands that share such instances.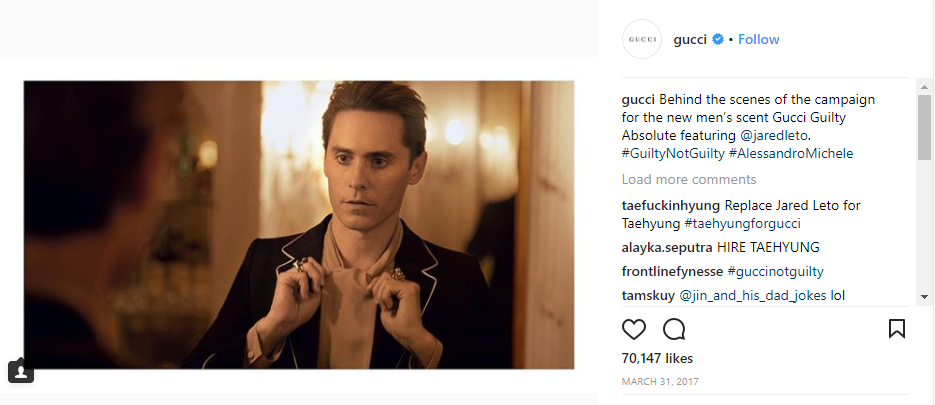 3. Instagram provides a platform for important event announcements
Instagram is the right platform to announce important upcoming events. Marketers can use Instagram to post an image of the brochure along with a video tour of the place where the event is to be conducted, or a video ad for the event. Such posts provide customers an immersive experience of what they can expect at the event.
The event details can be posted real time, or you can use a social media management app like Drumup to schedule the posts for publishing in advance. Managing an event can be nerve-wracking, because of tasks that have to completed in a timely manner. With Instagram scheduling, you can create your content calendar in advance and not rely on your memory to follow your publishing schedule.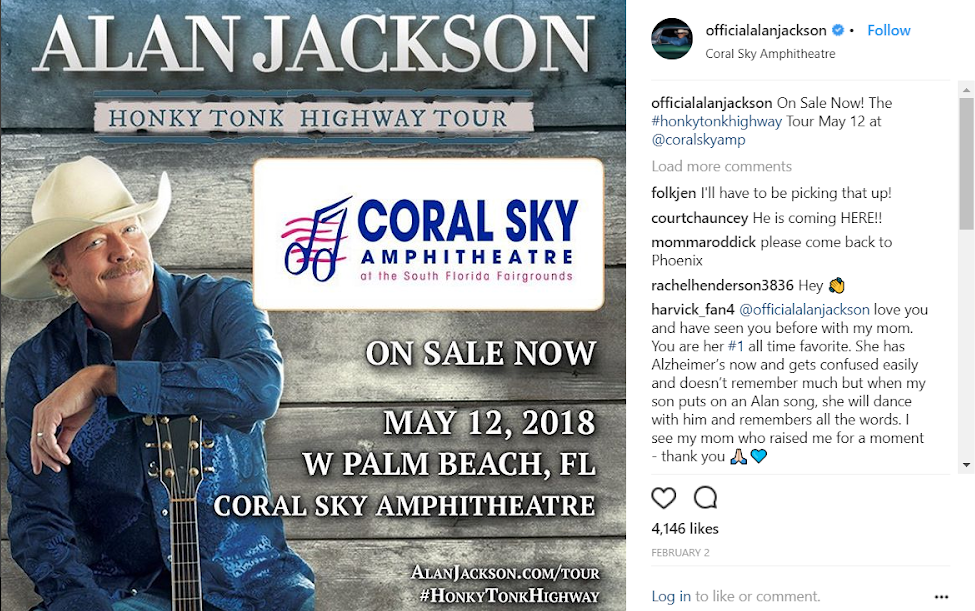 Here's an example of Alan Jackson's Instagram post, which he has used to announce a tour date and venue. The event details are posted visually and ahead of time, allowing the message enough time to sink-in among his target audience who can take action accordingly. These kinds of posts help in building your personal brand and business.
4. Instagram is a great platform to highlight the social responsibility aspect of your business
The social responsible acts of a business have a direct impact on its perceived goodwill. Most businesses indulge in forms of social responsible activities to connect with their audience powerfully outside of business. Broadcasting of social responsibility activities helps in building customer loyalty and reshaping your business's persona in the minds of customers.
Social media, and especially Instagram, is a great platform to let customers know about the social side of a business. For e.g., Southwestair's Instagram picture shows how their old airplane seats are upcycled with help from indigenous artisans. This throws light on the social responsibility of the business and how it cares about matters such as upcycling that are super-relevant in today's world.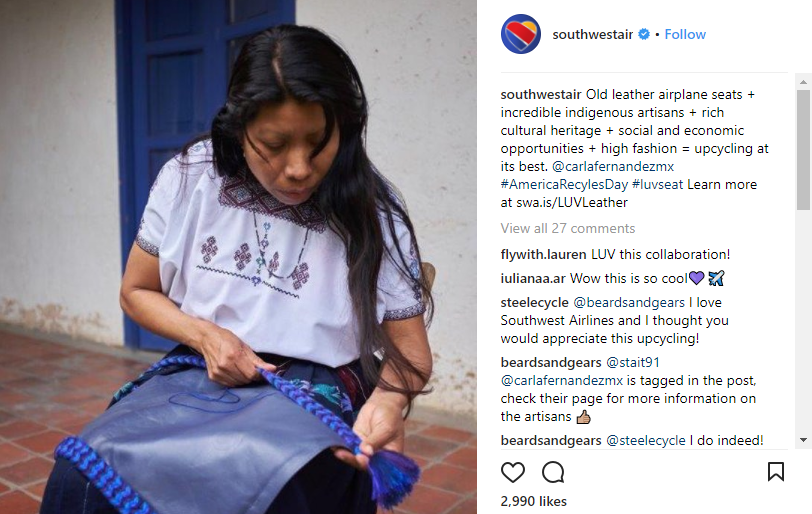 5. Instagram is a great platform for employee appreciation
By posting pictures on Instagram of employees celebrating career milestones or other important events in their lives, or simply by posting employees' opinions about something, the company not only boosts the morale of employees but also shows the customers that they care for their employees. This creates an impression in the minds of customers that the company is not just about business. Employees are an integral part of the company, and it's important for the company to show loyalty to them as well. This helps in reshaping the company's persona in the minds of customers.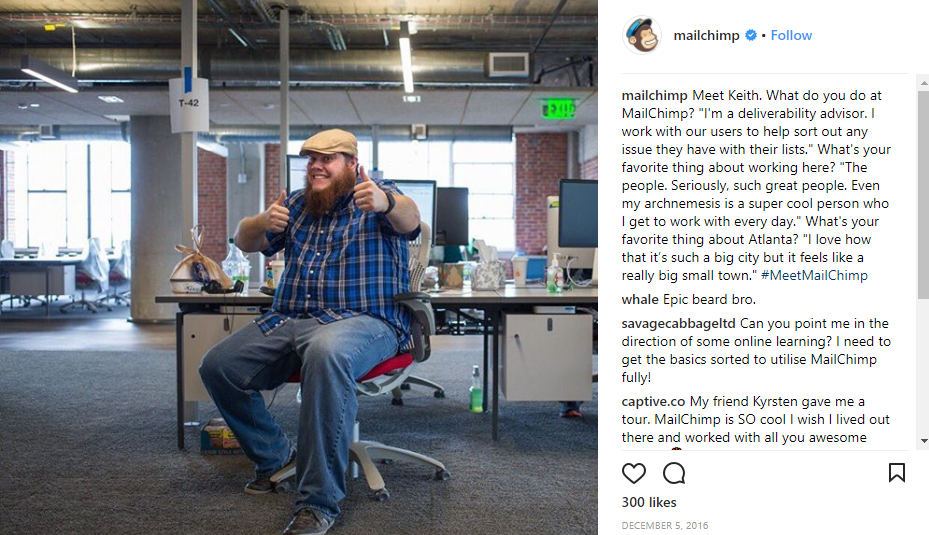 In the above example, Mailchimp has posted a picture of one of its employees giving his opinion about the company and other general things. The background of the picture shows how "super cool" and relaxing MailChimp's work atmosphere is. This provides an impression to customers that Mailchimp not only values employees and their opinions but also provides a very relaxing and comfortable place for employees to work. This helps in creating a good impression, which can have a positive impact on the business, in the minds of the customers.
The Instagram stories advantage
Instagram stories is a very important feature that helps companies to connect with their customers. The poll feature provided by Instagram stories help companies in obtaining the customer's opinion about something. For, e.g., it is common for online jewellery shops to ask their customer's opinion regarding the type of jewellery they would like to see. Thus, customers get an impression that the company values their opinion which in turn helps in building their loyalty and reshaping your business.
Instagram stories also appear above all posts in Instagram feeds, a premium space that gives businesses the chance to capture the attention of their audience. Plus, brand storytelling has always been a powerful means to making an impression on potential customers.
Thus, Instagram is a very powerful tool that companies can use to promote their product and service and get closer to their customers. By making use of the various features of Instagram in the most effective manner, companies are not only able to promote their business but also carve a niche in the minds of customers.